Home
»
Headline
,
Pinas Now!
,
Viewpoint
Wake Up Philippines, the World Economy is Falling Apart! Time to do Your Own Laundry!
15 November 2008
No Comment
Email This Post
Tweet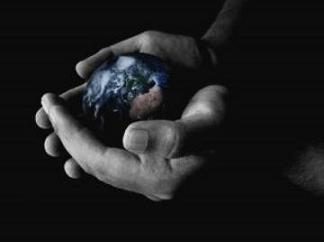 The current global economic crisis is a chain of events, primarily blamed on man's dependency on foreign oil and the manufacturing companies' dependency on petroleum for food production. Couple it with the mismanagement of creditors to lend money to people and businesses living beyond their means, which leads to more debts and not making enough money to pay the debts. In the end, all these contribute to foreclosures, bankruptcies, unemployment, high oil prices, high food prices, world wide inflation, and global crash or recession not necessarily in that order.
The United States regarded as a superpower based on its ability to influence the world in all respects, is the most hurt among nations. We wake up with the realization that there is no pot of gold at the end of the rainbow…
This sense of hopelessness and fear isn't only felt domestically. What it means for the rest of the world is that they will most likely be in an even deeper mess if a superpower like America can in fact suffer the way it has. For most anti-US countries, it is a cause for rejoicing but whether other nations favor the United States or not, sooner or later what is happening to the US will have a domino effect to the rest of the world. it is only a matter of time.
Already, in a surprising twist of event, Iceland- a highly-developed country in Western Europe has announced national bankruptcy. How can that be? People declare bankruptcy, companies file for bankruptcy but a country? an entire country?!
For those who think China is the new superpower, think again. They are a Socialist Republic run by communists. They have strong censorship dictating people what they can and can't read or know. No freedom of expression at all. They even ban certain websites from being accessed. Can you imagine that if you live in China, you can't even access Youtube or Wikipedia?! They practically control how people live there. Despite its huge economy, it's not as strong as some might believe. They are as vulnerable as the next country especially when part of their economy is based on US manufacturing companies, outsourcing jobs in their country. These US companies have declining funds and they are shutting down plants abroad and closing stores domestically. China workers are suffering.

For the Philippines who rely hugely on overseas remittances, what is happening to the world around it most especially to the United States is utterly disconcerting. Last year, the 11 million strong overseas workers (that's about 11% of the Philippine population!) sent $14 billion to pump the economy. There are 4 million expatriates from the US alone and about 2 million from the Middle East sending remittances, buying properties and creating businesses (=jobs) in the Philippines. This year while it is expected to remain the same, it is already forecasting a decline in 2009. Who knows how many of these 11 million overseas workers will be sent back home or will lose their jobs in the coming months?
While the US dependency on foreign oil is believed to be the major culprit of its economic fall, the Philippines' major dependency on its biggest export- its human resources doesn't seem to be a cause for concern at all for the government. In fact they even brag to the whole world that the overseas Filipino workers (OFW) are the lifeblood of the economy pumping those dollars to support the country's stability and economy.
In short, thanking the overseas workers for NOT having have to lift a hand, for NOT having have to do their own laundry or wash their own dishes, for NOT getting their hands dirty, for NOT having have to sweat blood and tears because the overseas workers are doing it for them! They can be lazy on their jobs because they are getting huge financial support from overseas workers. They can continue with graft and corruption, the things they do best!
Oh as a consolation, they get to call us "modern-day heroes." Did you hear about Pres. Gloria's recent announcement that "From now on, call them Expats not OFWs!" She says further that "we should begin to call our overseas Filipinos expatriates because the nature of their job is increasingly more on skilled professions, and they should be called expatriates because expatriates usually get higher pay." Huh, say that again Madam president?! Are you high?! OFW, Overseas workers, expatriates, slaves, servants- just semantics.
Seriously, that is not something to be proud about! It is a shame to say that your own countrymen are leaving the country of birth for greener pastures and opportunity. That is blatantly admitting that you the government, failed to protect your own people from poverty and unemployment and lack of better paying jobs! I would go back to the Philippines in a heart beat if I know I could survive there and live comfortably the way I can! The Philippines for all its inadequacy and destitution is a paradise to live in.
Does the government actually think we're here abroad to enjoy the Grand Canyon or Disneyland or just enjoy the view at the Petronas towers where we can relish in the beaches of Boracay or Palawan or explore the rest of the 7,001 islands? We would not have to go to other nations and suffer if you the government can offer more decent jobs for us "expatriates." This article shows how delusional President Arroyo is!